We help corporations and organizations in Canada provide accessible websites. Whether it's a one-person business or a complex team of developers, our full-service accessibility services allow you to meet your AODA and ACA goals.
Web Accessibility
Auditing
A website accessibility audit performed by an accessibility expert is the first step to an inclusive and accessible website. Our expert auditors manually review each element of your website. We will
Identify accessibility barriers
Provide descriptive explanations of each accessibility defect
Provide personalized recommendations for repairing each defect
With your approval, our accessibility developers will implement the repairs suggested in your audit to ensure that they are applied accurately keeping you from having to touch any code. Our experts
Manually perform accessibility repairs
Repair WordPress, Shopify, Joomla!, and other custom platforms
Verify accessibility throughout and at the completion of the repair project
PDF / Document Accessibility
Remediation
Our document accessibility services repair the PDF documents that you link from your website to ensure that they are accessible and available to the widest range of users.
Manually perform accessibility repairs
Add an accessible tagging structure
Verify accessibility throughout and at the completion of the repair project
Web Accessibility
Training
Our web accessibility training empowers your teams to create and maintain an accessible website. Our accessibility experts provide training for developers and decision makers. Our training is
Live instruction with an accessibility expert
Personalized to allow your team to focus on your digital accessibility needs
Interactive to ensure understanding
Be Accessible also offers website prototype reviews, website accessibility consulting, and document remediation training.
Benefits of an AODA & ACA compliant website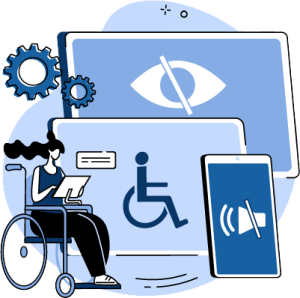 Provides an inclusive website
The Internet provides independence for people to perform daily tasks, complete business transactions, and enjoy entertainment. Web accessibility ensures that everyone enjoys these same rights and privileges.
Website accessibility is about real users. An inclusive website is an accessible website that applies universal design and provides your content and services to everyone regardless of ability.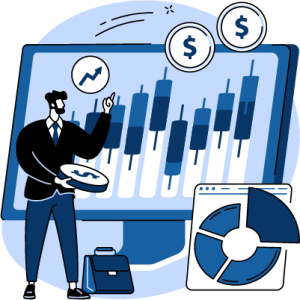 An AODA compliant website increases search engine optimization (SEO) which in turn increases market share. The techniques used to create an accessible website experience correlate with the techniques used to increase SEO.
For example, page titles and headings, descriptive alt text, and accessible links are a few elements required for both web accessibility and SEO. Update your website to be accessible, and enjoy the benefits of increased SEO rankings.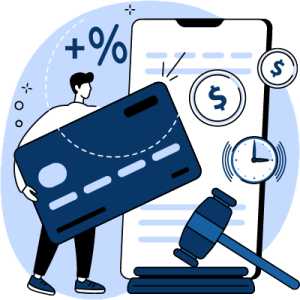 In addition to discriminating against users with disabilities, corporations/organizations who fail to comply with AODA are at risk for financial penalties. The maximum penalty is as much as a fine up to $100,000 per day that the website is not in compliance. Directors and officers of a corporation/organization that is found guilty can be fined up to $50,000 per day.
Similar to AODA penalties, federal agencies are at risk for ACA penalties if their website is not accessible. Noncompliance with the ACA can result in a fine up to $250,000.
How we make your business comply with Canadian web accessibility standards
Providing an accessible website is more than just adding captions to videos and alternative (alt) text to images. An accessible website provides access to all of your content and functionality to the widest range of users including users with disabilities. An accessible website allows assistive technology such as screen readers to read and present all of the content on each web page.
We test websites according to the Web Content Accessibility Guidelines (WCAG). Canadian accessibility standards such as ACA and AODA require WCAG 2.0 AA compliance. To help future-proof your website to ensure accessibility as requirements update, we will test for WCAG 2.1 AA compliance which includes all of the WCAG 2.0 requirements.
The following are just a few of the elements that our accessibility team of expert auditors and developers test and repair to ensure accessibility.
A semantic heading structure ensures that all users, including screen reader users, understand the structure of the web page.
We will view headings to verify
Presence of HTML headings
Correct use of HTML headings
Heading hierarchy
Accurate descriptions
Website accessibility includes providing sufficient color contrast.
During our accessibility audit, we will use sighted users to test all of the colors on the website to verify
Sufficient color contrast
Correct use of color
Sufficient color contrast for interactive elements (UI controls)
Images are an important part of a website's aesthetics. It is especially important to ensure that all users receive the information provided through images on a website.
We will view images to verify
Presence of alt text
Alt text accuracy
Misuse of images of text
Decorative images
Many websites provide information about their organization and services via PDF documents. Our audit process includes
Review of a selected sample of documents
Feedback about the documents' accessibility
If needed, Be Accessible will also repair your documents so that they are accessible to everyone, including screen reader users.
Canada Web Accessibility FAQs
What does an ACA and/or AODA Website Compliance check include?

Be Accessible's website accessibility audits include

Manual accessibility testing by an expert auditor
Usability testing by disabled individuals
Automated accessibility testing
Audit report that includes an overall summary of results
Detailed spreadsheet that includes the following for each defect:

Location
WCAG criteria violated
Expected result
Cause of defect
Custom repair recommendation
Screenshots/Video shares
Links to resources to help with repairs
Virtual meeting to discuss findings
Accessibility statement
Repair verification
How can I make my website AODA compliant?

AODA compliance is not intended to overwhelm website owners or their developers. Begin by obtaining a website accessibility audit. Complete the recommended repairs and attend web accessibility training to ensure continued compliance.
What's the difference between ACA and ADA compliance for web accessibility?

While both the ACA and the AODA required WCAG conformance, the ACA applies to all organizations in the private and public sectors and AODA is a mandate for public-sectors and certain commercial organizations in Ontario.
If a website is not ACA compliant, what barriers can a user encounter that prevent them from using the content?

Websites that are not compliant with ACA will exclude users from accessing content. A few of the barriers and an inaccessible website cause include

Blocking keyboard users from accessing links and form controls
Preventing hearing impaired users from accessing video content
Causing confusion and lack of access to visually impaired users
Preventing users with cognitive disabilities from finding and understanding content
Does Be Accessible perform automated accessibility scans?

In addition to our manual audit process, we will also perform a full site automated accessibility scan using our web accessibility checker, ADARocket. While automated testing has its limits, ADARocket will perform the tests that can be automated. Defects reported by ADARocket are reviewed and incorporated into the final audit report.

To assist our clients with ongoing accessibility checking, Be Accessible will provide free access to ADARocket.
PDF Repair

Great service, fast turnaround. Very easy to work with and responsive to all questions promptly. Would useRead full testimonial "PDF Repair"
Montgomery College
Erin Hudgins
Web Accessibility Audit

Great work, solid communication, a fair price, and a comprehensive finalRead full testimonial "Web Accessibility Audit"
Clearance Jobs
Evan Lesser
PDF Remediation

Excellent customer service. Our rep, Lee, was very courteous, responsive, and diligent. Turn around was quick, and there was great communication. We also compared quotes, and their rates were veryRead full testimonial "PDF Remediation"
Equity Stock
Nicole
You're one step closer to ACA compliance.
Fields marked with * are required.